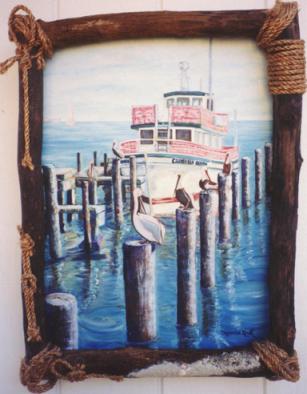 Caribbean Queen
18" x 24"
Oil
Docked at the pier, in St. Petersburg, Florida, is this familiar boat. Aged
and weathered pylons surround the Caribbean Queen, while pelicans perch atop
the pylons, dozing in the sun, as the salt spray fills the air. I imagine
myself cruising across Old Tampa Bay and feeling all is well with the world.

Upon completing this painting, I decided that a simple frame would not do
for the Caribbean Queen. Framed with driftwood and using hemprope to fashion
the bowline, square and sheet-bend knots, added the feel of the sea that I
was after. The final touch, small barnacles and snad that actually came from
St. Pete Beach, adhered to the bottom front of the frame, complete the mood
and setting; all aboard...