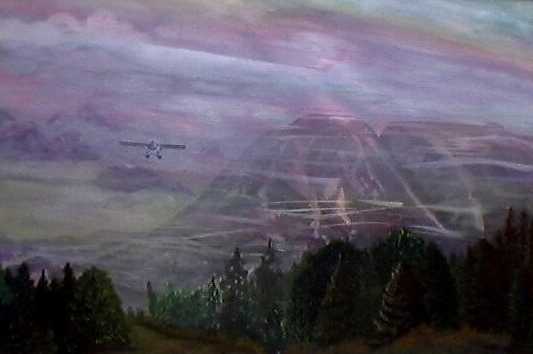 "Sleeping Lady Mountain/Alaska Range"
24"x36"
Mixed Media

Although this mountain lies off the coast of Anchorage, 
Alaska, it is so enormous that it filled the window of my 
fourth floor apartment on a daily basis. You see, the entire 
two walls, facing the mountain were glass, so you can 
imagine how this view filled my life. I told myself, daily, 
that I was not going to paint this mountain, but...

One day, as I was driving, I beheld a sky, as I had never 
before seen. I did not have my camera, (which is a rare 
thing in and of itself), so I screeched to the side of the 
road and began to sketch the sky that lay before me. I 
noted the shapes and colors that my eyes hardly believed, 
projecting themselves throughout the afternoon sky. 
When I got home that evening and stood in the majesty 
of "Sleeping Lady" I knew that I had to put the incredible 
sky I had seen with this glorious mountain. Just for fun, 
I also added a pontoon plane.